Erythropoietic
Protoporphyria
Erythropoietic protoporphyria (EPP) is a rare metabolic disorder that causes severe anaphylactoid reactions to light (phototoxicity).

CLINUVEL has developed the first ever treatment for EPP patients. Read more below.
Clinical and regulatory progress
SCENESSE® (afamelanotide 16mg) approved by European Medicines Agency
US Food and Drug Administration grant marketing approval for SCENESSE® 
Partnership with HK Winhealth Pharma Group Co. Limited in China announced
SCENESSE® approved by the Australian Therapeutic Goods Administration (TGA)
CLINUVEL is working to facilitate access to EPP patients in a number of countries. For more specific info, please contact us.
ERYTHROPOIETIC PROTOPORPHYRIA
EPP is a rare metabolic disorder that causes severe anaphylactoid reactions to light (phototoxicity).
Patients incur physical burns and ulcers, and are in a state of crisis following light exposure, summarised as phototoxicity. This usually occurs within minutes of exposure to light, especially high energy visible (HEV)/solar radiation.
Children and adults living with EPP must avoid sunlight and even reflected light for life, often staying indoors or wearing protective clothing. Conventional sunscreens have little to no effect as they do not block the wavelengths of light which cause phototoxicity in EPP.
EPP symptoms can be acute, or delayed (subacute), and are most often expressed as generalised oedema, effusion in tissue and scarring of the skin. As little as a few minutes of light outdoors (even when it is overcast or transmitted through a window) or artificial light exposure may be sufficient to evoke EPP symptoms.
Phototoxicity is unresponsive to traditional pain and burn management techniques and patients can be incapacitated for days before reactions subside. Most patients must withdraw from light exposure in order to manage their phototoxic symptoms.
Approximately 10,000 people globally are affected by EPP.
Read more about Erythropoietic Protoporphyria on our dedicated website EPP.care
CLINUVEL annouced interim results from its lead Phase III study of SCENESSE® (afamelanotide 16mg) in patients diagnosed with EPP (CUV017). The data from the first 14 Swiss patients to complete the 12 month study period were analysed, showing SCENESSE® was of clinical benefit in EPP.
CLINUVEL announced preliminary results from its lead Phase III study of SCENESSE® in 100 patients diagnosed with EPP (CUV017).
CLINUVEL released full report from the CUV017 study.
CLINUVEL announced results from its first US Phase II study of SCENESSE® (afamelanotide 16mg) (CUV030).
CLINUVEL announced results from its US Phase III study of SCENESSE® (afamelanotide 16mg) (CUV039).
Harms J, Lautenschlager S, Minder CE, Minder EI. An α-melanocyte–stimulating hormone analogue in erythropoietic protoporphyria. New England Journal of Medicine. 2009;360(3):306-307.
Murphy GM. Diagnosis and management of the erythropoietic porphyrias. Dermatol Ther. 2003;16(1):57-64. doi:10.1046/j.1529-8019.2003.01609.
Thunell S, Harper P, Brun A. Porphyrins, porphyrin metabolism and porphyrias. IV. Pathophysiology of erythyropoietic protoporphyria–diagnosis, care and monitoring of the patient. Scand J Clin Lab Invest. 2000;60(7):581-604.
Todd DJ. Clinical implications of the molecular biology of erythropoietic protoporphyria. Journal of the European Academy of Dermatology and Venereology. 1998 Nov;11(3):207-13. PMID: 9883431.
CLINUVEL is conducting a Phase IIa study of SCENESSE® (afamelanotide 16mg) in variegate porphyria (VP).
Clinical and Regulatory progress
October 2018 – CLINUVEL announced that it has reached agreement with two European porphyria expert centers on a clinical trial protocol to conduct a Phase IIa proof of concept study evaluating the safety and efficacy of SCENESSSE®(afamelanotide 16mg) in variegate porphyria (VP).
Future – The study (CUV040) will start patient treatment in the nothern hemisphere on a date to be confirmed.
About Variegate Porphyria
The porphyrias are a group of nine genetic metabolic diseases, including VP and EPP, characterised by enzyme deficiencies along the biochemical pathway of haem synthesis. VP is a rare autosomal dominant inherited disorder resulting from the deficiencies of the mitochondrial enzyme photoporphyrinogen oxidase (PPOX), the sixth enzyme in the haem biosynthesis pathway.
A debilitating and burdensome disease for patients, VP is classified as both a cutaneous and acute porphyria. The cutaneous symptoms are characterised by adult-onset blistering lesions (bullous symptoms, subepidermal vesicles) and chronic fragility (hypotrophy and hypoplasia) of sun and light-exposed skin, especially the back of the hands and the face. The propensity of the dermis to form wounds (lesions and erosions which form crusts, heal slowly or not at all, and are prone to infection) following the mechanical use of hands and feet further restricts VP patients in their daily activities. Typically, patients experience scarring of the face, hands and feet. Patients diagnosed with VP experience phototoxicity and suffer episodes in spring and summer when the atmospheric intensity of light increases. The acute neurovisceral symptoms may present as severe episodes as early as adolescence, with women more affected than men. Psychiatric disturbances, autonomic neuropathy and muscle weakness have been reported in some patients.
The reported prevalence of VP varies from 0.3 to 2 cases per 100,000 inhabitants but has been reported as more common in the Caucasian South African population (up to 1 in 300 people) due to a founder effect.¹ European prevalence varies from 0.32 to 1 cases per 100,000 inhabitants, whereas the reported prevalence in the US is 0.5 cases per 100,000 inhabitants.
Currently, there is no standard of care or alternative therapy for cutaneous VP symptoms. Patients are forced to lead a life sheltered from light and to avoid any mechanical contact with their skin surface or risk triggering wounds and long-lasting blistering.
¹ Elder G, Harper P, Badminton M, Sandberg S, Deybach JC. The incidence of inherited porphyrias in Europe. J Inherit Metab Dis. 2013;36(5):849-857. doi:10.1007/s10545-012-9544-4.
Horner ME, Alikhan A, Tintle S, Tortorelli S, Davis DM, Hand JL. Cutaneous porphyrias part I: epidemiology, pathogenesis, presentation, diagnosis, and histopathology. Int J Dermatol. 2013;52(12):1464-1480. doi:10.1111/ijd.12305.
Vitiligo is a treatment-resistant disease which causes loss of pigmentation, affects more than 45 million individuals, and has an intense psychological and social impact on patients.
Clinical and regulatory progress
Trial allowed by FDA; Pilot commenced; and first clinical observations presented at 2011 EADV congress.

Updated clinical observations presented alongside 2012 AAD Meeting and observations from US vitiligo study published. First treatment results announced: SCENESSE® successful in Phase IIa vitiligo study.
Further Phase II study commenced in Singapore with preliminary results reported in December 2015.
North American program update published.
CUV103 Singapore Phase II vitiligo study results released. 
CLINUVEL meets the US Food and Drug Administration and global experts to discuss the North American development program for the treatment of vitiligo. 
Read this announcement.
Vitiligo is a common skin disorder in which the pigment producing cells of the skin (melanocytes) are absent or demonstrate a lack of activity. As a result, lighter depigmented patches of skin  (vitiliginous lesions) appear in different parts of the body due the lack of melanin (pigment).
The exact cause of vitiligo is unknown, but it is generally recognised that an autoimmune component plays a role in this disease. Between 0.1-2% of the global population is affected by vitiligo impacting all races. Vitiligo causes significant psychological and emotional distress.
Vitiligo is traditionally separated into two clinical forms: generalised vitiligo and segmental vitiligo (SV), which present with distinctive clinical features and natural histories.
Generalised vitiligo (or just 'vitiligo', previously referred to as 'nonsegmental vitiligo')* is the most common form of the disease, accounting for 72-95% of the cases. The vitiliginous lesions are usually symmetrically distributed and new patches may appear throughout the patient's life. The disease is progressive with flare-ups. Vitiligo is frequently associated with personal or family history of auto-immunity.
SV is characterised by a unilateral distribution that may totally or partially match a dermatome (area of skin with innervation from a single spinal nerve) and has an earlier onset and a rapid spread. SV occurs in a minority of patients and is thought to be more frequent in pediatric patients; it may account for 30% of childhood cases. Auto-immune association is rare with SV.
The main goal of treating vitiligo is to achieve an arrest of the depigmentation or even arrive at repigmentation of the unpigmented lesions. Many treatment options exist but clinical challenges persist, as not all patients respond to available therapies and relapse is common.
CLINUVEL commenced a pilot Phase II trial of SCENESSE® (afamelanotide 16mg) as a repigmentation therapy in patients with generalised vitiligo in the USA and Europe in the second quarter of 2011. SCENESSE® is being evaluated for its ability to activate melanocytes within the vitiliginous lesions and achieve repigmentation in combination with NB-UVB in patients with vitiligo. The first treatment results from this program, study CUV102, were announced in December 2012. A Phase IIb study of the drug commenced in Singapore in 2014.
SCENESSE® is understood to protect and repair DNA, a concept that will now be confirmed by CLINUVEL's DNA Repair Program.
As part of a staged clinical program, CLINUVEL has worked with global experts to identify and design clinical objectives which focus on clinically meaningful and relevant study endpoints, including assessment of DNA photoproducts (chemical reactions within DNA strands), repair of DNA damage, and evaluation of the treatment impact on patients' quality of life.
Following treatment of the first patient with xeroderma pigmentosum (XP-C) under a Special Access Program, the DNA Repair Program will proceed with an open label Phase II study involving six XP-C patients (CUV150) and a control study enrolling 10 healthy volunteers (CUV151), whereby clinical and histological (skin biopsies) evaluation of afamelanotide treatment will be undertaken in both groups.
Details of the sponsored studies CUV150 and CUV151 will be released as they are finalised.
Ultraviolet (UVB of wavelengths 290-320 nm and UVA of 320-400 nm) and high energy visible (HEV, 400-600 nm) light penetrate human skin leading to cellular oxidative stress and damage to DNA within the nucleus of skin cells. This damage consists of changes to the DNA structure (photoproducts)2 which, if left unrepaired, can replicate and increase the risk of skin cancers, such as melanoma.
Under normal conditions, human biology is capable of repairing DNA damage through nucleotide excision repair and/or base excision repair (NER and BER, respectively), in which defective strands of DNA are "snipped" and removed, and replaced by the correct DNA sequences. XP patients, organ transplant recipients and people of Anglo-Saxon origin with red hair, blue eyes and fair skin are at the highest risk of developing skin cancers because they have either insufficient or defective NER and BER, i.e. a reduced capacity to repair damaged DNA.
Scientific evidence supports the use of afamelanotide, the active ingredient in SCENESSE®, for photoprotection and repair of UV-induced DNA damage.
During the development of SCENESSE®, a number of categories of scientific evidence have been accumulated:
systemic photoprotection to skin cells;
optimisation of the response of skin cells to UV radiation;
anti-oxidative capacity;
elimination of photoproducts (chemical damage to DNA);
increased activity of DNA repair genes (as part of NER and/or BER); and
reduction of cell death (apoptosis) following UV exposure.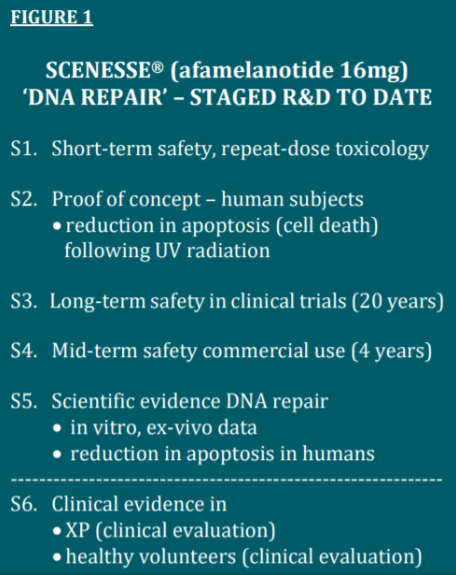 Figure 1 illustrates how the DNA Repair Program has placed emphasis on the safety of patients and volunteers exposed to afamelanotide – more than 10,000 doses in over 1,400 subjects – during 20 years of clinical use, a requisite to being able to complete the clinical use of the hormone as a DNA restorative drug in patients at the highest risk of contracting skin cancers.
Stages S1 to S5 have been evaluated by the Company and regulatory authorities as satisfactory and complete, enabling Stage 6 of clinical investigation in the scope of SCENESSE® as a DNA-regenerative pharmaceutical therapy. Clinical stage S6 consists first of a Special Access Program in XP to confirm the safety of the drug in this highest-risk population, followed by a pilot study in XP-C (CUV150), and a parallel control study in healthy volunteers (CUV151) who are exposed to UV radiation under standardised conditions.
The exact biochemical and cellular mechanisms of UV-induced cellular damage and repair by SCENESSE® are explained in technical terms in Figure 2, attached below.
Xeroderma Pigmentosum (XP) is a rare, hereditary disease where patients are extremely intolerant to ultraviolet (UV) light and unable to repair UV-induced DNA damage.
Clinical and regulatory progress
September 2020 – CLINUVEL announced the launch of its novel DNA Repair Development Program to confirm the ability of SCENESSE® (afamelanotide 16mg) to repair damaged DNA and investigate its use as a treatment for xeroderma pigmentosum.
The aim of the development program is to confirm the drug's ability to regenerate DNA of skin exposed to ultraviolet (UV) damage. First results from the use of SCENESSE® in XP patients from the program are expected in 2021.
About Xeroderma Pigmentosum
Xeroderma Pigmentosum is a debilitating rare disease characterised by hyperkeratinisation, poikiloderma and wider skin tissue damage that is a consequence of irreparable DNA damage. Affected individuals are particularly susceptible to developing actinic keratoses and squamous and basal cell carcinomas due to a genetic defect which hampers the nucleotide excision repair (NER) process. Eye and neurological problems are likely to occur over time, but neurological defects only develop those with the greatest impairment of DNA repair.
Due to these genetic deficiencies in DNA repair proteins, XP patients are 10,000-fold greater risk of developing skin cancers including melanoma, necessitating them to shield from ambient and outdoor light from birth onwards. The extreme rate of these malignancies requires frequent surgical removal that often results in loss of extremities and facial anatomy, such as ears, and eyesight. The median age of survival for XP patients is approximately 30 years.
XP is an autosomal recessive disease, which means an individual with the disease has inherited two copies of the mutated gene (one from each parent) that causes XP. If only one XP gene is inherited, then that person carries the gene but is not affected by it. Having two XP genes causes patients to be incapable of responding to DNA damage, resulting in a range of symptoms.
The symptoms are caused by faulty DNA repair mechanisms in the skin. A defect in nucleotide excision repair (NER) results in an inefficient DNA repair mechanism in XP. Ultraviolet radiation (290 – 400nm) and high energy visible (HEV, 400-600 nm) light from sun exposure damages DNA. As the cells are unable to repair it, the DNA remains damaged, which leads to cell death and/or the development of cancerous cells.
Kramer KH, Patronas NJ, Schiffmann R, Brooks BP, Tamura D, DiGiovanna JJ. Xeroderma pigmentosum, trichothiodystrophy and Cockayne syndrome: a complex genotype-phenotype relationship. Neuroscience. 2007;145(4):1388-1396. doi:10.1016/j.neuroscience.2006.12.020.
Lichon V, Khachemoune A. Xeroderma pigmentosum: beyond skin cancer. J Drugs Dermatol. 2007;6(3):281-288.
Sugasawa, K. Xeroderma pigmentosum genes: functions inside and outside DNA repair. Carcinogenesis. 2008;29(3):455-465. doi:10.1093/carcin/bgm282.
Zahid, S, Brownell, I. Repairing DNA damage in Xeroderma Pigmentosum: T4N5 lotion and gene therapy. J Drugs Dermatol. 2008 Apr;7(4):405-8. PMID: 18459526.
Zeng, L, Quilliet X, Chevallier-Lagente O, Eveno E, Sarasin A, Mezzina M. Retrovirus-mediated gene transfer corrects DNA repair defect of xeroderma pigmentosum cells of complementation groups A, B and C. Gene Ther. 1997;4(10):1077-1084. doi:10.1038/sj.gt.3300495.
Arterial Ischaemic Stroke (AIS) patients suffer an acute and life-threatening condition due to a blood clot in a major brain vessel which deprives the brain of blood flow and oxygen. This leads to rapid death of brain tissue and loss of function. Ischemic stroke accounts for approximately 85% of the estimated 15 million global stroke cases reported annually.
Clinical and regulatory progress
October 2020: CLINUVEL announced that it would commence a pilot Phase IIa study (CUV801) to evaluate SCENESSE® (afamelanotide 16mg) in patients suffering from AIS who are ineligible to receive standard therapy (IVT/EVT), and in stroke affecting the M2 segment or higher, where there is a great unmet medical need. Read the announcement here.
A stroke occurs when a clot in a major vessel blocks the flow of blood and oxygen to the brain, causing instant death of brain tissue. Stroke is often characterised by a patient's sudden impairment of consciousness, inability to move one side of the body and limitation in speech. The centre of the brain injury is called the necrotic core (dead brain tissue), and the larger surrounding brain injury is known as the penumbra (meaning shadow around the core). The necrotic core is dead brain tissue which is unsalvageable, but the penumbra is part of the brain deprived of oxygen which can be recovered if the patient is treated quickly.
Current standard therapy relies on early intervention following stroke onset to restore blood flow to the brain by either chemically dissolving or physically removing the clot. Intravenous thrombolytic therapy (IVT) in the form of recombinant tissue plasminogen activator (alteplase or tenecteplase; rt-PA) can be administered within 4.5 hours, aiming to dissolve the clot within the brain artery. This therapy is usually combined with endovascular thrombectomy (EVT) which aims to mechanically remove the clot and is ideally performed within 24 hours of the stroke. Brain imaging, using a computed tomography (CT) scan, is performed upon hospital admission for patients displaying symptoms of stroke, and physicians assess the loss of neurological functions using the modified Rankin Scale (mRS), a scoring of severity of disability.
The location of the brain clot determines whether a stroke patient is eligible for the combined therapy thrombolysis (IVT) and thrombectomy (EVT) treatment, as well as having an impact on overall patient prognosis. Clots in the main "M1" segment of the brain are generally eligible for IVT or EVT due to the wider diameter of the artery and accesibility to physically remove the clot. Those in smaller arteries (segments "M2" and higher) off the middle cerebral artery (MCA) are considered impossible to remove or of too great a risk to the patient.
Globally, 15 million patients suffer from a stroke annually, and over 5.5 million do not survive. Around 40% of AIS patients do not survive the first year, with most patients who do survive experiencing permanent life-long disability and further impairment of function over time due to brain tissue damage. As many as 50% of stroke survivors suffer disability and stroke is one of the most frequent causes of dementia. A quarter of stroke patients will experience another stroke within five years, with 12% of AIS patients being readmitted to hospital within 30 days of discharge.
Most patients require ongoing care and face limitations in their daily social activity, as well as significant rehabilitation costs and loss of earnings. Families often have to shoulder excessive rehabilitation costs and lost wages. In the United States alone, recent estimates place the cost of stroke in excess of $34 billion per year.
World Stroke Organization (2020). Learn about stroke. Available online at: https://www.world-stroke.org/world-stroke-day-campaign/why-stroke-matters/learn-about-stroke.
de Sousa et. al. (2019). Access to and delivery of acute ischaemic stroke treatments: A survey of national scientific societies and stroke experts in 44 European countries. Eur Stoke J. 4(1):13-28.
Rai et. al., (2017). A population-based incidence of acute large vessel occlusions and thrombectomy eligible patients indicates significant potential for growth of endovascular stroke therapy in the USA. J Neurointerv Surg. 9(8):722-726.
Zerna et. al., (2018). Current practice and future directions in the diagnosis and acute treatment of ischaemic stroke. Lancet. 392(10154):1247-1256.
Benjamin, et. al. (2017). Heart disease and stroke statistics-2017 update: a report from the American Heart Association. Circulation. 135(10):e146–e603.
Contact
Questions?


Get in touch.