Melbourne, Australia, 4 May 2022
ASX:
XETRA-DAX:
Level 1 ADR:
CUV
UR9
CLVLY
Executive Summary
afamelanotide evaluated as safe in mild to moderate arterial ischaemic stroke (NIHSS 1–15, n=6)
NIHSS1 scores improved in five patients
brain scans (MRI-FLAIR2) in all patients show reduction of affected tissue
strong functional recovery in all five surviving patients
CLINUVEL today released positive final results of the open label pilot study (CUV801) in arterial ischemic stroke (AIS), evaluating multiple doses of CLINUVEL's drug afamelanotide in six adult patients. Afamelanotide was shown to be well tolerated, with five of the six patients showing considerable clinical and functional recovery up to 42 days after treatment.
"Final analyses from the CUV801 study show that surviving patients who received treatment with afamelanotide all seemed to have recovered well in the six weeks following their brain injury," CLINUVEL's Head of Clinical Operations, Dr Pilar Bilbao said. "Our clinical team often publicly emphasise the significance of afamelanotide as a safe drug in patients, and in this study, we obtained further data that patients with longstanding cardiovascular disease seem to tolerate afamelanotide well. The significance of these findings is of benefit to all our current and future programs."
Study Results CUV801
CUV801 is the first clinical study assessing afamelanotide as a treatment for a life-threatening brain injury.
All six patients enrolled in the study carried an increased risk of stroke due to their history of cardiovascular disease, elevated blood pressure or diabetes type II, and all suffered a stroke (blood clot) in the left half of the brain. The study was conducted at the specialist stroke unit of the Alfred Hospital in Melbourne, Australia.
Safety was the primary endpoint of the pilot study with afamelanotide administered up to four times over ten days following the stroke. This frequency of dosing seemed not to affect patient safety, with no drug-related adverse events reported during or after the study completion. One patient with a complex cardiovascular history passed away following a second stroke on day 5, which was assessed as unrelated to afamelanotide treatment.
Treatment efficacy was measured using computer imaging to assess the volume of the area affected by the stroke, and validated clinical assessments of function, neurological impairment, and disability.
Analyses of the brain scans (MRI-FLAIR2) performed at days 3 and 9 showed a reduction in size of the affected area in five of the six patients.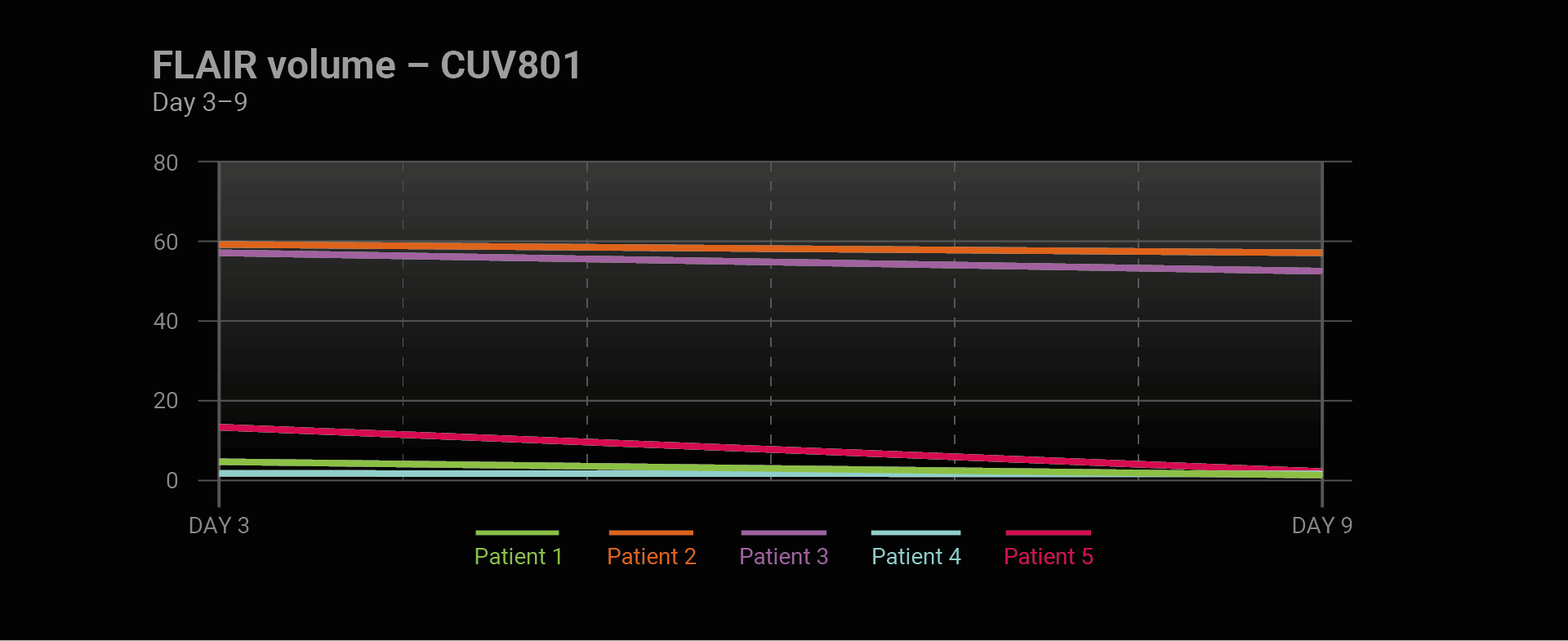 Analyses of the NIHSS scores1 up to day 42 indicated that all five surviving patients showed an improvement in neurological functions and reduction in overall impairment (p=0.0625). Four out of five surviving patients showed an improvement of 4 points or more on the scale, regarded as significant, and all five patients reported a clinically meaningful reduction of 3 points. Two patients were symptom free at day 42.
The modified Rankin Scale, a non-stroke specific tool used to determine global disability, proved not sensitive enough as an instrument for the short study period.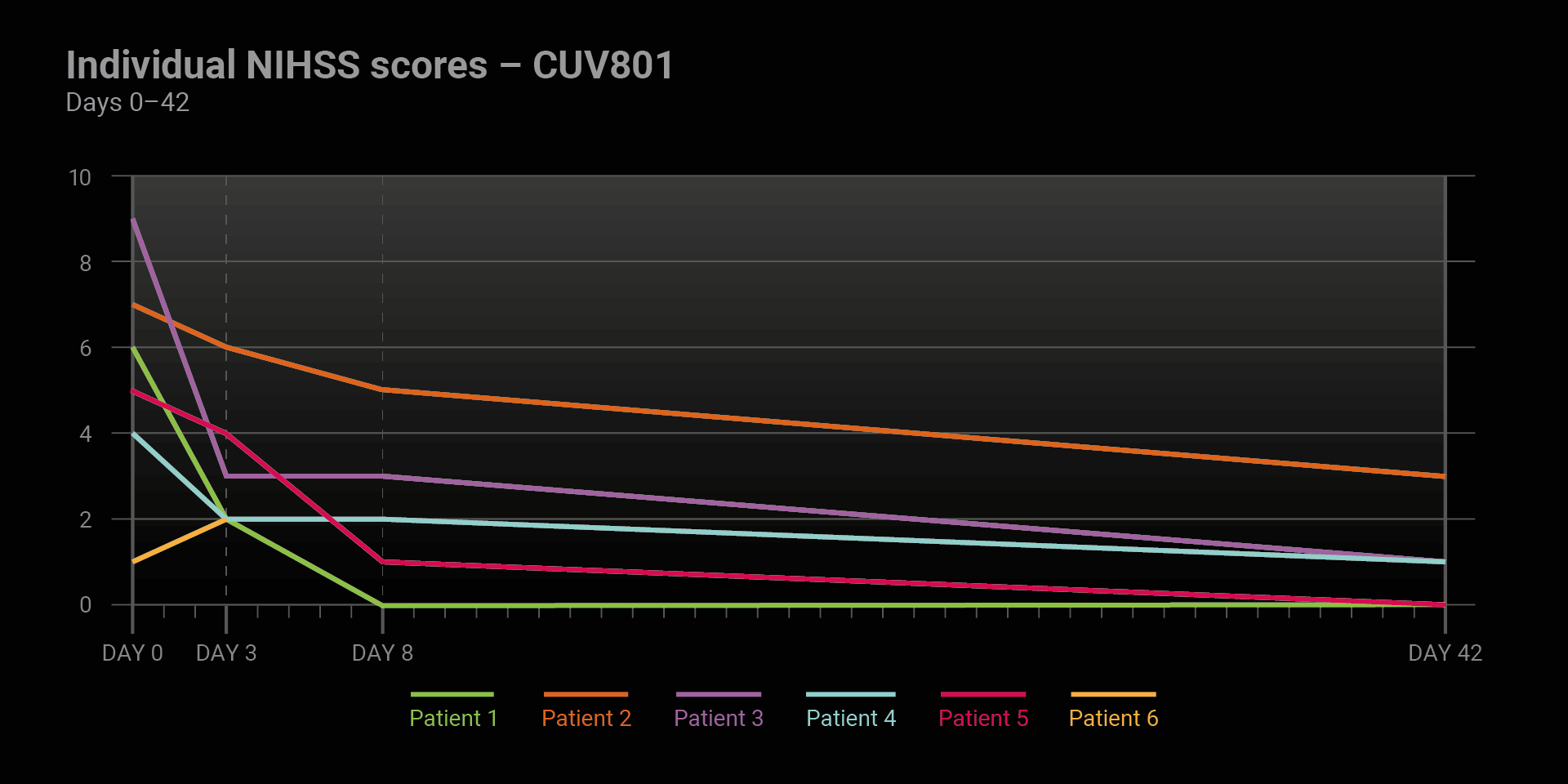 Addressing Unmet Medical Need in Stroke
Ischaemic strokes account for around 85% of the estimated 15 million strokes suffered worldwide each year. Stroke is the leading cause of serious, long-term disability in the United States. Considering the staggering prevalence of stroke, the burden of post-stroke recovery and ongoing disability is of primary public health importance.
"Despite the considerable impact of strokes on individuals and society, the treatment options available, even at specialist stroke units, are tragically limited," Dr Bilbao said. "We are seeking to prove that afamelanotide can provide a safe, effective treatment option which can improve the overall prognosis post-stroke and reduce patient disability long-term."
"The first steps are to gain comfort that the intervention with afamelanotide poses no harm to patients, while obtaining objective measures of impact of treatment on the course of the patients' disease. With CUV801 we have achieved both these outcomes and can now pursue further studies and regulatory interactions with a degree of confidence that the drug performs as expected."
"The gain for stroke patients, but also for society as a whole, lies in the improvement in neurological functions, since the ability to resume independent living saves high costs to our healthcare systems," Dr Bilbao said.