CLINUVEL has entered a formal collaboration with four of the world's leading vitiligo experts to support clinical and scientific work and provide advice on the Company's late-stage development of, and path to market for, SCENESSE® (afamelanotide).
This is the first time CLINUVEL has entered a long-term collaboration with specialists, owing to the scientific progress in vitiligo. The experts selected are best positioned to provide advice on the future use of afamelanotide in clinical practice, presenting the drug as a non-immunogenic therapy in patients with darker skin types.
SCENESSE® for vitiligo
SCENESSE® is being developed as the first systemic (total body) treatment for vitiligo, a complex disorder where patients lose skin pigmentation. Early clinical trials of SCENESSE® showed that the drug, used in combination with narrowband ultraviolet B (NB-UVB) phototherapy, could repigment vitiligo lesions faster and more effectively than NB-UVB alone, with the best clinical response seen in patients with darker skin types (Fitzpatrick Skin Types IV-VI). 1
CLINUVEL has established a late-stage clinical trial program to assess SCENESSE® as a combination therapy in vitiligo; a new study, CUV105, is expected to start treating patients later this year.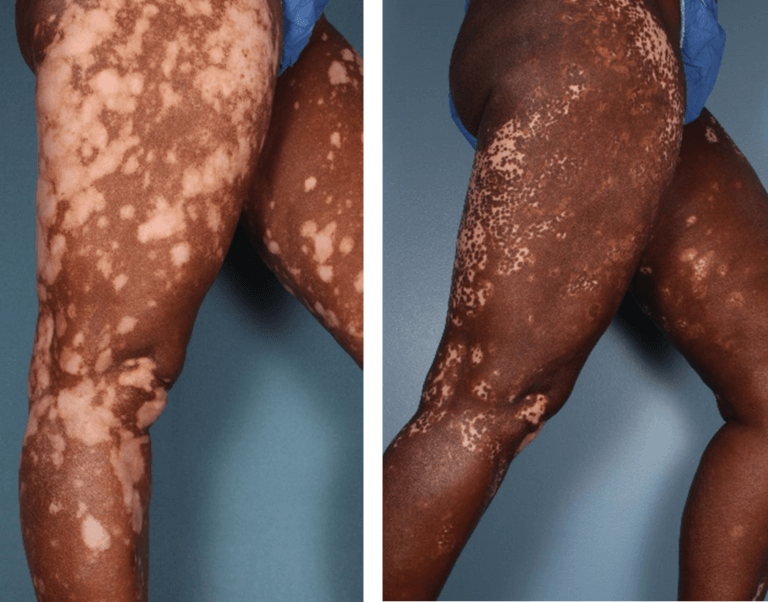 Figure 1 Repigmentation of a vitiligo patient's legs in the CUV102 study. The patient received 55 NB-UVB treatments and four SCENESSE® implants over six months. Images courtesy of the investigators.2
Vitiligo Expert Panel (VEP)
The VEP comprises clinical leaders in pigmentation and photodermatology:
Dr Viktoria Eleftheriadou (UK) – Consultant Dermatologist at Walsall Healthcare & The Royal Wolverhampton NHS Trusts and Honorary Associate Professor at the Institute of Applied Health Research at the University of Birmingham.
Prof Khaled Ezzedine (France) – Professor of Dermatology at Assistance Publique – Hôpitaux de Paris and the Hôpital Henri-Mondor.
Dr Pearl Grimes (USA) – Director of the Vitiligo & Pigmentation Institute of Southern California and the Grimes Center of Medical and Aesthetic Dermatology, and Clinical Professor of Dermatology at the David Geffen School of Medicine at UCLA.
Prof Thierry Passeron (France) – Professor and Chair, Department of Dermatology, University Hospital of Nice, Professor of Dermatology at the University Côte d'Azur, and head of laboratory INSERM U1065 team 12, C3M.
The Panel will periodically meet with CLINUVEL's scientific and clinical teams to monitor progress, undertake critical analyses, and confirm that the overall program reflects contemporary clinical and academic thinking on vitiligo.
Commentary
"Vitiligo is a notoriously difficult disorder to treat and has a devastating impact on patients," CLINUVEL's Chief Scientific Officer, Dr Dennis Wright said. "Recent regulatory and societal recognition of the impact of the disease has created new opportunities to progress clinical development of afamelanotide.
"By treating patients systemically, we are aiming to introduce a new standard of therapy for vitiligo patients in clinical practice. The engagement with global experts is in anticipation of the position of afamelanotide in daily dermatology practice," Dr Wright said.