Melbourne, Australia, 15 March 2022
ASX:
XETRA-DAX:
Level 1 ADR:
CUV
UR9
CLVLY
Executive Summary
First use of afamelanotide in arterial ischaemic stroke (AIS) patients
Drug well tolerated
Five of six patients showed improved neurological functions (NIHSS¹ scores)
Final results on day 42 of the trial to follow.
CLINUVEL today released positive preliminary results from its pilot study (CUV801) in arterial ischaemic stroke (AIS), evaluating afamelanotide in six adult patients. The trial focused on the safety of multiple afamelanotide doses and patient recovery over 42 days, using the National Institutes of Health Stroke Scale (NIHSS¹) and brain imaging (CTP and MRI²).
"This is the first time that a melanocortin has been administered to stroke patients. No adverse drug reactions were reported, and a meaningful improvement was seen in five of the six patients' health by day 8," CLINUVEL's Head of Clinical Operations, Dr Pilar Bilbao said. "We are awaiting the results from the final evaluation of the patients at day 42, which will give us further data on afamelanotide as a possible treatment for this life-threatening disease."
Study Design CUV801
The CUV801 study was conducted by the Stroke Unit of The Alfred Hospital in Melbourne, Australia. Patients with an arterial blockage, who were ineligible to receive standard treatment (consisting of clot removal and/or dissolution³), were administered afamelanotide as a single therapy.
The six adult patients had suffered mild to moderate strokes (NIHSS scores 1-15) due to a clot lodged within the second branch of one of the three major brain arteries – beyond A1/M1/P1.⁴ Upon hospital admission, the patients received routine brain scanning (CTP), with follow up brain imaging not involving further radiation (MRI) on day 3 and day 9, and their disability assessed through neurological tests (NIHSS) throughout the study period.
Patients were treated with up to four doses of afamelanotide on days 0 (admission), 1, 7, and 8.
The primary objective of the study was to determine the safety of afamelanotide, with clinical assessment as a secondary measure.
Preliminary Neurological Results
All six patients suffered a stroke of the left half of the brain and carried an increased risk of stroke due to a history of cardiovascular disease, elevated blood pressure, or diabetes type II.
The brain scans were performed to quantify changes in blood flow to the ischaemic penumbra (salvageable brain cells), with further evaluation made of neurological function as an indication of recovery from the brain injury.
Four patients were administered only two doses of afamelanotide, one each on days 0 and 1, since the treating physicians judged that these patients had already recovered well. Two of the six patients received the total four doses.
Five patients were discharged from hospital by day 9. One patient with a complex medical history passed away following a second stroke, suffered on day 5 while hospitalised. This fatal event was assessed by the specialist treating neurologists and the study safety committee as unrelated to the administration of afamelanotide.
Analyses of the NIHSS scores up to day 8 indicated that five of the six stroke patients showed neurological improvement and strong degree of functional recovery. A reduction in NIHSS score translates to an improvement in neurological function (including language, and facial and limb weakness).
Five of six patients showed a clinically meaningful improvement (decrease) at day 8, expressed as a change equal or greater to four points on the NIHSS. The median NIHSS score for the five patients was 6 upon admission, and overall improvement with a median score of 2 on day 8, and five out of six patients were assessed – according to NIHSS – as mild to symptom-free by day 8.
The graphic above shows the NIHSS preliminary scores of all six patients, assessed at days 0, 3, and 8.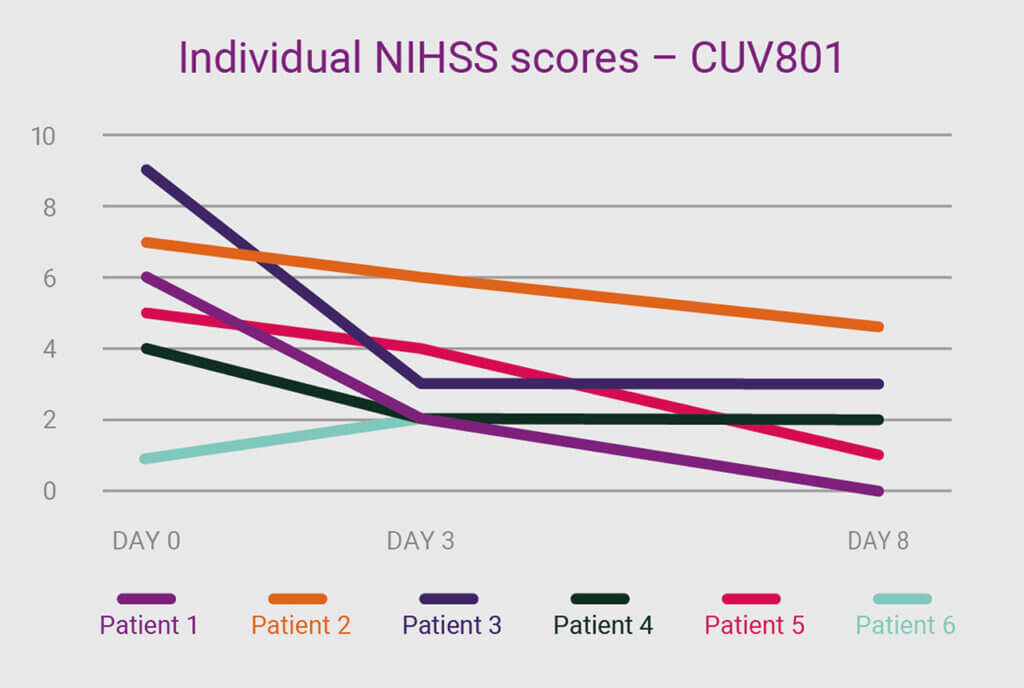 Five patients are being followed up for six weeks (day 42), after which a final evaluation of the neurological functions and brain injury will be made, while long-term disability is being assessed through the modified Rankin Scale (mRS).