Melbourne, Australia, 30 August 2022
ASX:
XETRA-DAX:
ADR Level 1:
CUV
UR9
CLVLY
An Investor Webinar will be held today (30 August) at 18:00-18:30 AEST (10:00-10:30 CEST) – see details below.
Key Highlights, Year Ending 30 June 2022
Consolidated Entity
30 June 2022
30 June 2021
Total Revenues, Interest and Other Income
$66,987
$48,451
Total Expenses
$32,667
$22,738
Net Profit before income tax expense
$34,321
$25,713
Profit after income tax expense
$20,876
$24,728
Cash and Cash Equivalents
$121,509
$82,691
Basic Earnings per Share
$0.42
$0.50
Net Tangible Assets backing per Share
$2.50
$1.91
Dividend distribution per Share
$0.04
$0.025
All figures are reported in Australian dollars. Refer to the Appendix 4E and Annual Report released to the Australian Securities Exchange for details.1 Figures in A$ '000s. Refer to the Appendix 4E Preliminary Final Report released to the Australian Securities Exchange for details
CLINUVEL today announced its sixth consecutive annual net profit, driven by revenues of $66.987 million, a 38% increase. For the year ending 30 June 2022 (FY2022), the Group has reported profit after income tax expense (NPAT) of $20.876 million and profit before income tax expense (PBIT) of $34.321 million, as disclosed in its Appendix 4E and Annual Report. The Group also reported a non-IFRS measure of adjusted net profit before tax of $39.837 million, which adjusts for certain material non-cash items that do not impact the Group's cash position.
"CLINUVEL's commercial operations are scaling up to meet treatment demand worldwide, while the Group is pursuing R&D projects which aim to add value over the long-term," CLINUVEL's Chief Financial Officer, Mr Darren Keamy said. "Our FY2022 results show a fundamentally strong business to date, allowing us to invest for future growth.
"Improved cash inflows this year have further bolstered the Company's cash reserves enabling us to continue the implementation of a growth strategy in the face of difficult economic headwinds. The strong cash position has also allowed the Board to declare an increase in dividend this year, most of all recognising the loyalty and patience of long-term shareholders. We remain focused to translate our technology to the benefit of patients and specialised populations, particularly those at highest risk of light-induced damage and skin cancer," Mr Keamy said.
Six Years of Revenue Growth and Profit
CLINUVEL remains one of the few ASX-listed bio-pharmaceutical sciences companies to generate a profit. In FY2022 the Company delivered its sixth consecutive year of positive cashflow, revenues and profit, while maintaining control of operating expenses to facilitate growth and expansion.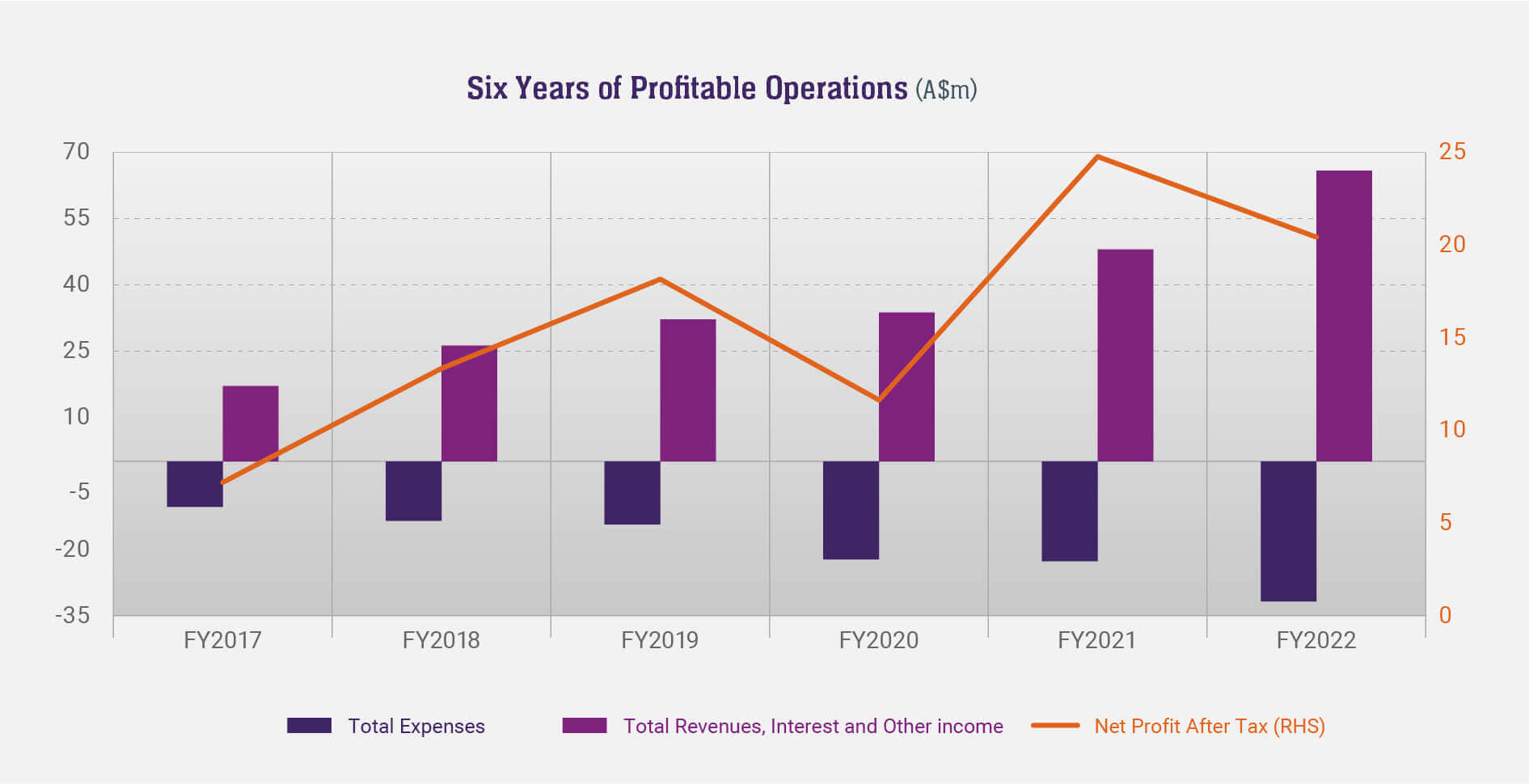 The Group has outlined a clear long-term growth strategy reinvesting a large percentage of proceeds into new development. The expansion strategy is enabled by the ongoing increase of cash inflows from commercial operations. The accumulated cash reserves increased by $38.818 million (47%) during FY2022 to stand at $121.509 million as of 30 June 2022. CLINUVEL has committed to expenditures of $175 million over the five years to 30 June 2025 to achieve its growth and expansion objectives and, based on expenses in FY2021 and FY2022, is on track to achieve this projection.
More information on the Company's strategy can be found at www.clinuvel.com.
Increase in Annual Dividend
Following the financial results for the year ending 30 June 2022, the CLINUVEL Board has declared an increase to its full-year dividend distribution to $0.04 per ordinary share fully franked, up from 2.5 cents per share unfranked for the full year to 30 June 2021. This is the fifth consecutive dividend declared by the Group. Subject to sufficient cash reserves, the key dates for the dividend are:
Ex-dividend date: 06 September 2022;
Record date: 07 September 2022; and
Payment date: 21 September 2022.
Dividends are available to Australian and overseas registered shareholders, including holders of CLINUVEL's Level 1, American Depository Receipts. Prior to the record date, shareholders are encouraged to confirm their personal shareholder information, including payment election information, with the share registrar.
Clinuvel Briefing
CLINUVEL will host an investor and analyst webinar at 18:00 AEST today to review the results of the FY2022. Participants can register using the link below: