Melbourne, Australia, 23 January 2023
ASX:
CUV
XETRA-DAX:
UR9
Level 1 ADR:
CLVLY
Executive Summary
CLINUVEL advancing portfolio of melanocortins, including ACTH formulations
ACTH manufacturing process and analytical method development complete
cGMP manufacture of validation batches to commence
Filing of DMF for ACTH expected in H2 2023
CLINUVEL today announced an update on its commercial development of the analogue adrenocorticotropic hormone (ACTH), part of CLINUVEL's portfolio of melanocortin products. The Company will launch a range of ACTH products under the trade names
NEURACTHEL® Instant
and
NEURACTHEL® Modified-release
for patients with neurological, endocrinological, and degenerative disorders, with plans to file a regulatory drug master file (DMF) for ACTH in the second half of 2023. CLINUVEL is currently pursuing the development of three melanocortin-based pharmaceutical product lines globally: NEURACTHEL
®
, PRÉNUMBRA
®
and SCENESSE
®
.
Critical manufacturing processes
Working closely with exclusive manufacturing partners, CLINUVEL completed method and process development work throughout H2 2022, including the establishment of critical process parameters serving the commercial product manufacturing. In the coming months work is planned for on production of the ACTH drug substance under current Good Manufacturing Practices (cGMP) standards at commercial scale, characterisation of the drug substance, and overall evaluation stability. Data from validation batches support the filing of a DMF with global regulatory authorities laying the foundation for the submission of marketing authorisation applications.
The development pathway for the NEURACTHEL
®
product range is outlined in Figure 1.
"Our development work continues apace, with an aggressive goal set for the team to deliver the ACTH DMF later this year, followed by completion of the NEURACTHEL® product development and marketing authorisation applications," CLINUVEL's Chief Scientific Officer, Dr Dennis Wright said. "Today, we have stablished a framework to support our next commercial steps in the form of drug batches which can be used as commercial product development. The pathway to file a dossier on the generic molecule ACTH is clear and is expected to result in a relatively fast regulatory review once filed.
"Our work is geared towards the objective of bringing treatments to patients with high unmet need, and who are unable to reliably access ACTH right now. There is a pool of other severely affected patients, whom we believe may benefit from ACTH treatment but, to date, have not been a focus for the industry," Dr Wright said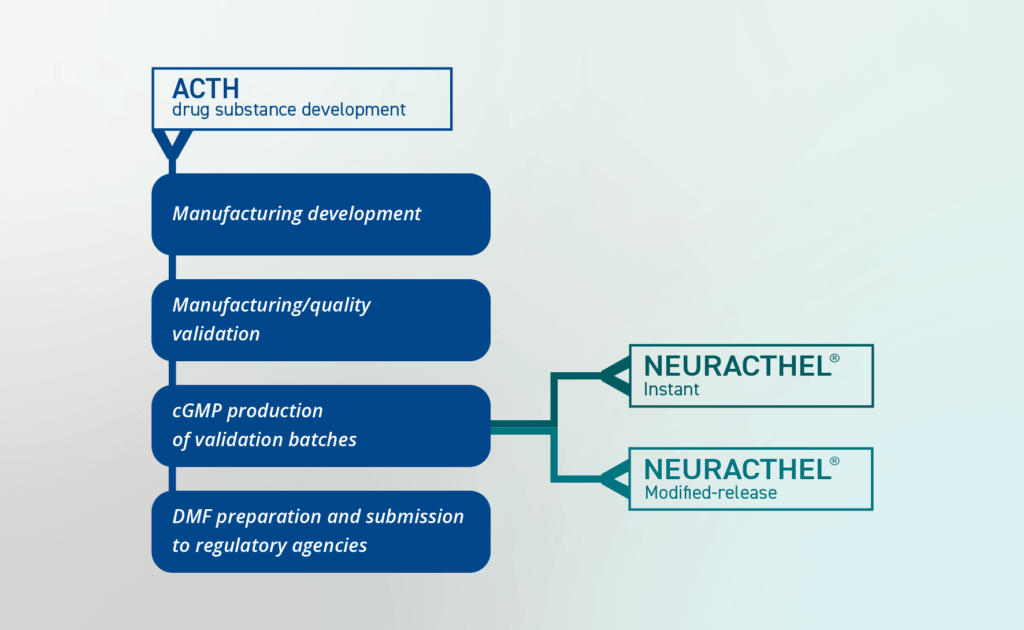 CLINUVEL's portfolio of products based on large melanocortin molecules
Melanocortins are a group of bioactive hormones derived from the precursor peptide proopiomelanocortin (POMC), which is produced both in the pituitary gland and in peripheral tissues and skin. These are responsible for the regulation of a wide range of biological functions including pigmentation, food intake regulation, and immune and reproductive systems.

Having successfully commercialised the melanocortin-based drug afamelanotide in a controlled-release injectable (SCENESSE®), CLINUVEL has established an expanded portfolio of melanocortins for therapeutic use. The Company's approach involves both developing new pharmaceutical products and formulations to market, as well as evaluating the potential of its established products in patient populations with high unmet need (no effective or alternative treatment).
| Product | Active pharmaceutical ingredient | Formulation(s) | Patient populations | Indications | Manufacturing status |
| --- | --- | --- | --- | --- | --- |
| SCENESSE® | Afamelanotide | Controlled-release | Adults, adolescents | EPP, XP, vitiligo | cGMP scale, commercial |
| PRÉNUMBRA® | Afamelanotide | Instant & Modified-release | Adults, children | Stroke, undisclosed vascular disorders | cGMP scale, clinical trial |
| NEURACTHEL® | ACTH | Instant & Modified-release | Adults, children | Infantile spasms, multiple sclerosis, undisclosed | ACTH process & analytical method development complete |
""As our programs progressed the past two decades, the understanding of the role and potential of melanocortins to address severe disorders has grown considerably. Having led melanocortin drug development, CLINUVEL is very well placed to address medical challenges and, ultimately, commercialise new products for patients," Dr Wright said.