Slip! Slop! Slap! How a cartoon seagull helped a sunny nation get to grips with a skin cancer epidemic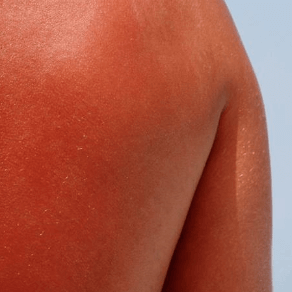 For a kid growing up in suburban Australia in the 1970s, summer for your columnist was all about bathing on the footpath in the searing afternoon sun in between restorative dips in the backyard pool.
A bottle of Reef Oil – a coconut-scented lotion aimed at a faster tan – was always nearby. Inevitably, a proper sunscreen was nowhere in sight and we wore a stinging red sunburn as a badge of honour.
Back then we didn't know that tanning is in fact an undesirable stress response to light and ultraviolet (UV) damage: the epidermis (the outer skin) is eliciting signals to protect cells deeper in the dermis (the 'true' skin underneath that contains the blood capillaries, nerve endings, sweat glands and such).
Suddenly working up a tan doesn't sound so appealing, especially considering Australia is exposed to one of the highest rates of harmful UV radiation in the world. While the scientific jury is still out on the subject, Australian Bureau of Meteorology research suggests that, having been stable in the 1970s and 1980s, Australian UV levels soared in the two decades thereafter as the ozone layer depleted.
Despite this heightened underlying risk the incidence of skin cancer has stabilised, at least in the under-50s cohort. That's because in the 1980s Australian perceptions about sun and UV safety began to shift radically for the better, thanks to an animated seagull named Sid. Donning a wide-brimmed hat, a T-shirt, protective sunscreen and – later – sunglasses, the SunSmart nautical mascot belted out a catchy tune called Slip! Slop! Slap! (see video below).
Fast forward a few years and there are few primary schools in the country who will allow kids outdoors without slipping on a top, slopping on sunscreen and slapping on a hat. Hat wear is compulsory at most primary (elementary) schools and junior sporting events, where large tubs of broad spectrum SPF 50+ (we used to call it sun cream) are readily available.
At face value, the Australian skin cancer statistics are still disheartening. According to the Australian Institute of Health and Welfare, 3,527 new cases of melanoma – the deadliest skin cancer – were diagnosed in 1982. By 2013 the incidence had risen to 12,744 cases, with 14,320 new cases expected to be diagnosed this year. But a difference picture emerges when the ageing and growing population is taken into account. Adjusted for this, the melanoma rate has been steady at 50 patients per 100,000 Australians. Along with New Zealand, Australia still has the highest incidence of skin cancer in the world and melanomas remain the third most common cause of cancer.
For early-stage skin cancers, the five-year survival rate is an encouraging 98%. But if the cancer has metastasised, the chances of a patient seeing out another five years drops to 18%. More hearteningly, the legacy of Slip! Slop! Slap! and the subsequent SunSmart campaigns are now being felt, with a sharp decline in new melanoma rates for men and women under 55. Research from the University of Sydney, Royal North Shore Hospital and Peter MacCallum Cancer Centre suggests annual decreases of 1.4% (for men) and 1.9% (for women) since the early 1990s. In 2015, new melanoma rates for men under 55 were 15.3 per 100,000, a big improvement on the 20.9 in 1996. For older Australians who missed out on the re-education, melanoma rates are still climbing (albeit at a slower rate). Misconceptions still abound, such as the long-discredited one about the sun only being dangerous if it is sunny (UV radiation can be high even on cloudy days). At workplaces such as building sites, there are plenty of examples of hatless and even shirtless blokes with callous skin bronzed by a lifetime of harmful radiation. Too much education evidently is never enough in Queensland, with a recent government survey showing more than half of the adults polled in the sun-drenched state had sunburn at least once in the last year.
While exposure to direct sunlight adds to the risk of developing melanoma, some people are at inherently higher risk because of their family genes. Approximately 90% of melanomas are considered sporadic, meaning that gene damage in skin occurs in patients during their lifetime. But the remaining 10% of cases are familial, meaning specific gene mutations have been handed down from family genes.1, 2 Experts have noted these individuals could have two to three times greater than average risk of developing a melanoma.1 A number of mutated inherited genes have been identified as causing melanoma, including CDKN2A, MDm2 and CDK4. Others have been identified and are still being researched. This adds to the notion of the sun being a risk factor, but not the sole factor in causing melanomas. An individual's family melanoma history, age, skin type and receptor function can greatly influence the risk factors and additional caution should be taken for those considered to be extra vulnerable.
Overall, the Slip! Slop! Slap! campaign shows community attitudes can be shifted with well devised campaigns and, not surprisingly, other countries have sought to follow suit. According to the Cancer Council of Australia, SunSmart Victoria (which owns the intellectual property for 'Slip! Slop! Slap!') has licensed elements of the campaign, such as Sid the Seagull. While the campaign has not been adopted in full elsewhere, other countries have replicated the campaign in different forms.
The UK, for instance, launched its Sun Know How campaign in 1996. This was succeeded by a modestly funded campaign called SunSmart in 2003, under the auspices of Cancer Research UK. Interestingly, the UK's SunSmart needed to be modified, with the Slip! Slop! Slap! message deemed inapplicable "due to the differences in the UK climate and limited existing public knowledge."
3 
Naturally, England's gloomier weather (thus lower UV exposure) makes for inherently lower skin cancer risk. As research from the University of the West of England (UWE) and Cancer Research UK (CRUK) notes, concerns about vitamin D deficiencies among the pasty-faced populace may encourage higher sun exposure.
3 
The advent of rock-bottom airfares also means Brits are holidaying in places such as Canary Islands and Ibiza – and frying themselves in the unaccustomed sunshine. It's understandable. Fair-skinned northern Europeans also like to holiday in warmer climates and often let their guard down on the banana lounge.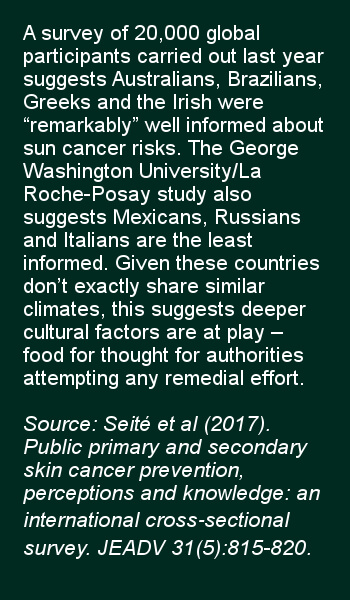 The UWE-CRUK paper makes the point that prevention campaigns need to be consistent, well resourced and pitched at a national level. As the Australian experience shows, a mass media campaign coupled with specific interventions is the most effective. The paper says: "although current skin cancer prevention campaigns have generated significant prevention activity …there is a gap in the evidence base showing what activity will lead to behaviour change and how to change the widespread desire for a tan."
In the US, where public health initiatives tend to lag other western countries, there is no co-ordinated national skin cancer prevention effort. But the US Environmental Protection Agency launched a program called SunWise in 2000. The program, now run by the National Environmental Education Foundation is a school-based effort for students at kindergarten to eighth grade levels. About five million Americans are treated for skin cancer annually. Under its stewardship, the EPA estimates SunWise prevented 11,000 cases of skin cancer up to 2015, with an 11% decline in sunburn rates among the students exposed to the program.
Beyond prevention, treatments have also come a long way since the 1980s. As with most cancers, early detection is crucial and the most common treatments are surgical removal, scraping or burning of isolated tumours, with techniques improving constantly. New drugs are also promising hope for more advanced melanoma sufferers, such as the immunooncology treatment Keytruda that produced remarkable results for former US president Jimmy Carter and Australian businessman Ron Walker (who died in January aged 78). As with all cancers, prevention is better than cure, and Sid the Seagull shows what can be done to shift even the most entrenched cultural attitudes.
*This is the third column in a regular series about the big issues that affect CLINUVEL and the broader biopharmaceutical sector.
Giles Delaney is an experienced business journalist, having worked for newspapers and magazines in the Asia Pacific for more than three decades. As a guest writer, Delaney retains full editorial freedom and his views are his own. Delaney is happy to answer readers' questions via mail@clinuvel.com. Answers will be posted on the CLINUVEL website.
1 SCENESSE® (afamelanotide 16mg) is approved in Europe as an orphan medicinal product for the prevention of phototoxicity in adult patients with EPP. Information on the product can be found on CLINUVEL's website at www.clinuvel.com.