Cost of drug discovery – value for money?
Like orderly queuing at the post office or correctly using cutlery at a dinner party, universal and affordable medication is a hallmark of any advanced and civilised society.
But when it comes to finite sources of funding, the neat queue is showing signs of strain given the expanding range of ailments being tackled, especially 'orphan' indications that affect relatively few people.
Every year, the denizens of western countries are offered access to dozens of truly new drugs. According to the research house Pharmacare, 14,872 new drugs were in the pipeline in early 2017, 8% higher than the 13,718 drugs in 2016. These include launched drugs in additional development.
In turn, the 2016 figure was 11% higher than the 2015 tally. But the US Food & Drug Administration's (FDA's) Center for Drug Evaluation and Research approved only 46 'novel' drugs in 2017, which suggests that most of these treatments are reiterations or reformulations of old drugs (see chart below). Still – and in the words of FDA chief Dr Scott Gottlieb – "today, new medical breakthroughs are profoundly altering how we view and treat disease in a way that seemed inconceivable years ago."
So availability is not an issue, whether we're talking about old repurposed drugs or breakthrough treatments in areas such as immuno-oncology and gene therapies. But it's the 'affordable' aspect that is causing community disquiet, especially in the US where healthcare costs are galloping, and the complex public healthcare system is under economic pressure.
The reality is that developing a new treatment from scratch is horrendously expensive and the odds of commercial success are poor, necessitating sometimes sky-high list prices for new therapies. Added to this, the life cycle of drugs is decreasing, with so-called blockbusters superseded by fast-following rivals.
While estimates vary, it takes hundreds of millions of dollars to develop a major new drug, with a decade-plus development time between test tube tinkering and regulatory approval. According to the Centre for Medical Research International, in 2014 the average commercialisation success rate was 4.9%. In other words, more than 95% of compounds in the early toxicity dosing phase did not make it to market.
For the drugs that get to market, seven out of ten don't produce a return on investment for the owners.
For the early stage stuff, it would be 'safer' for a drug company to plonk its shareholders' funds on the black at the nearest casino. Fortunately they don't – as far as we're aware.
Driven by the need to replace their existing blockbuster drugs, big pharma companies are seriously upping their bets on research and development.
According to Endpoints News, the top 15 pharma companies spent US$98bn on R&D in 2017, a 45% uptick from US$67.2bn in 2016.
Four companies – Johnson & Johnson, Bristol Myers Squibb (BMS), GlaxoSmithKline (GSK) and Celgene – boosted spending by more than US$1 billion. As Endpoints notes, "that represents some big bets on late-stage efforts during an intense and growing rivalry to score bigger markets in oncology and other key disease focuses."
Orphan drugs do not stand alone
When it comes to R&D spending, orphan indications are being tackled on an unprecedented scale, leading to a re-focus from 'blockbusters' to 'niche busters'.
The FDA defines orphan indications as affecting fewer than 200,000 Americans. Collectively though, it's big business: a University of Massachusetts Amherst study estimates the FDA approved 554 orphan drugs between 1983 and 2015, and recognised 3,647 orphan indications. Since 1983 the FDA has run an orphan drug incentive program, offering drug companies incentives such as grants, tax breaks and a seven-year market exclusivity period (European regulators have a similar scheme).
Given these subsidies, it's easy to presume that orphan drugs are some sort of marginal exercise for the drug makers. But are they really? According to the uni's research, 22% of drugs sold in 2010 were for orphan indications – with an average value per drug of US$637m.
The research also contends the average return on investment for an orphan drug is 30% – almost double that of a normal drug. In some cases, the FDA is alleged to have granted approval to expensive drugs that have blocked eventual competition from cheaper imports.
Therein lies an ethical dilemma. While it's a hallmark of a civilised society to strive to treat all diseases, the orphan drugs are notoriously expensive because there are far fewer patients to recoup the R&D costs.
Inevitably, this will give rise to debate about who should bear the cost. For instance UK authorities in 2015 rejected approval and funding of a drug called Translana, used for the rare genetic condition Duchenne muscular dystrophy.
Despite questions around the drug's long-term efficacy, the £220,000 per annum sticker price for the treatment was later approved under a managed access scheme for five years, which means the NHS provides the drug for about 50 children.
The Translana approval followed a campaign by affected families including affected kids knocking on the door of Number 10 Downing Street. When it's a case of helping children to walk again, it's a hard case to ignore politically.
Avoiding the patent cliff
When internal R&D fails, big pharma is willing to spend big on speculative early-stage acquisitions to address the pending "patent cliff".
In February BMS paid US$1.85bn in cash and US$1.78bn in milestones for Nektar Therapeutics, which holds an early stage immuno-oncology drug called NKTR-214. Abbvie recently puzzled analysts by buying Stemcentrx for US$5.8bn (plus US$4bn of potential milestones). This investment is under a cloud because early survival cancer data for small-cell lung cancer has been underwhelming.
Judging from their reported profits the big pharma companies appear to be in clover, but growing pressures mean they have to ensure that some of this clover becomes hay for a more bitter winter.
One issue is that the average time to patent expiry for a drug in the US is 17 years, after which generic drug makers can compete (generics already account for 80% of drugs dispensed in the US).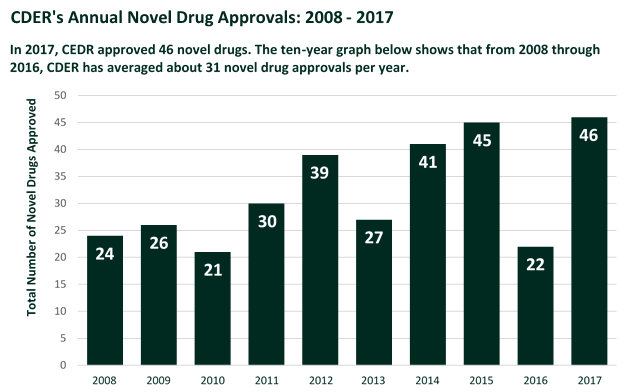 Figure 1: CDER's Annual Novel Drug Approvals: 2008 - 2017 reproduced from CDER
Of course drug companies are not philanthropists and their investors bray for decent returns.
That means that the 5% of drugs which successfully reach the clinic need to generate returns that more than compensate for the development costs of the 'failed' 95%.The result, of course, is escalating drug prices, leading to pressure on public funders such as the UK National Health Service or Australia's Pharmaceutical Benefits Scheme to pony up for more and more drugs.
Ageing society's harsh choices
The harsh truth is the public purse cannot subsidise every 'useful' drug – especially the orphan ones – unless citizens are willing to cop a higher personal tax rate. For the drug companies it's hard to drop prices when the treatment cost several hundred million to develop and there are all those 'failed' drugs in the portfolio to justify.
As with the banks, big pharma never win sympathy in the court of public opinion because they report massive headline profits. Underpinning the push to develop new drugs is the salient reality that most western world populaces are getting older and also living longer.
Ageing baby boomers have tended to have had it their way in their personal and professional ways and they're less likely to put up with arthritic joints and dodgy hips in the same way their forebears did. Given the ratcheting drug R&D costs, the poor commercialisation strike rate and rising societal expectations, an expectation gap has emerged between what patients want and what they are willing (or able) to pay for.
But in any democratic society there's competition for scarce resources, and when it comes to funding affordable drugs something has to give. A 'cure' for the dilemma of drug economics versus societal expectations has never been further away.
But with 14,000 drugs in development, at least researchers are presenting the medical options for previously untreated patients in the first place.
*This is the second column in a regular series about the big issues that affect CLINUVEL and the broader biopharmaceutical sector.
Giles Delaney is an experienced business journalist, having worked for newspapers and magazines in the Asia Pacific for more than three decades. As a guest writer, Delaney retains full editorial freedom and his views are his own. Delaney is happy to answer readers' questions via mail@clinuvel.com. Answers will be posted on the CLINUVEL website.
1 SCENESSE® (afamelanotide 16mg) is approved in Europe as an orphan medicinal product for the prevention of phototoxicity in adult patients with EPP. Information on the product can be found on CLINUVEL's website at www.clinuvel.com.