Sun Protective Clothing
When selecting clothing for your child to wear outdoors, choose light-weight, tight-weave materials; these will help to keep them cool whilst still blocking the majority of ultraviolet (UV) radiation. Encourage children to wear long-sleeved shirts and pants to further protect them from the sun's harmful rays.
Ultraviolet Protection Factor
Many commercially available sun protective clothes refer to the UPF of the material or garment. The UPF (ultraviolet protection factor) is a numerical rating given to clothing to indicate how effectively the fabric blocks UV radiation. A UPF rating of 25 means that only 1/25th (or 4%) of the UV radiation can penetrate the fabric. UPF applies to a range of broad-spectrum light wavelengths, covering both UVA and UVB radiation. The highest UPF rating a garment can be assigned is 50+, a piece in this range is determined as providing "excellent" protection from UV radiation.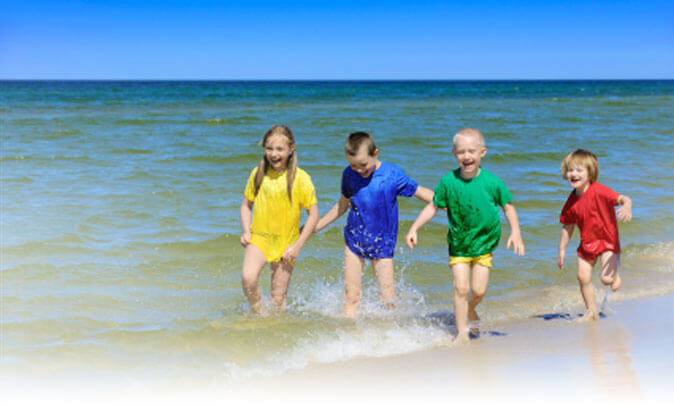 The specific UPF of a garment results from a complex interaction between the fabric, with its specific properties, and its use under certain environmental conditions. The following is a list of factors which can influence the UPF of textiles:
Type or composition of the fabric (i.e. cotton, wool or polyester)
Weave: tightly knit garments allow less UV radiation to pass through
Colour: darker colours generally offer greater protection
Weight: heavier garments tend to be more impermeable to UV radiation
Stretch: extending a fabric tautly over the body can expand the spaces between the fibres, allowing more UV radiation to penetrate the skin
Moisture: wet clothing blocks less UV radiation
Condition: fabric which has become faded or worn by use may offer reduced protection
Finishing: during manufacture, treatment of garments with UV absorbing chemicals (colourless dyes) can enhance their UPF.
Photoprotective laundry additives, such as 'Rit Sun Guard', are also recommended by The Skin Cancer Foundation.
In addition to the UPF of the fabric, clothing design is an important aspect affecting the protective value of a garment. Sun protective clothing must meet certain coverage requirements: for the upper body, clothing must extend from the neck to hip, plus down three-quarters of the upper arm, and from the waist to below the knee on the lower body.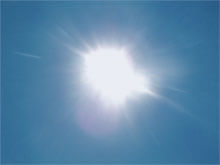 Published in 1996, the Australian and New Zealand Standard for the evaluation and classification of sun protective clothing (AS/NZ 4399) is considered the benchmark of the industry. Figure 1 displays the classification scheme for UPF ratings included in this standard:
Figure 1. UPF ratings and protection categories
In Europe, the solar UV protective properties of fabrics are tested and classified according to the European Standards (also known as a European Norm) EN 13758-1 and EN 13758-2. While the European standard also provides a UPF rating, it differs from the AS/NZ rating system as it specifies the temperature and humidity under which fabrics should be tested.
Testing and certification
In recent years there has been some effort made to standardise both the testing and labeling of sun protective clothing. The Australian Radiation Protection and Nuclear Safety Agency (ARPANSA) and other authorised institutions provide testing of fabrics; the transmission of light through the textile is measured using spectrophotometry. They have also developed a certification scheme which involves the labeling of garments with tags displaying their UPF rating. This is particularly important for assisting safety-conscious consumers to select the right garments. Notably, one 2001 German study revealed that nearly half of the summer clothing on the market that year did not meet the UPF rating of 30+ required by the European standard. Thus, by choosing a certified article of clothing, purchasers can be assured of its UV protective quality. In Australia, the state cancer councils sell certified sun protective clothing to the public. ARPANSA also provides an online list of photoprotective garment suppliers.
Allen, MW & Bain, G 2008, Measuring the UV Protection Factor of Fabrics, Thermo Fisher Scientific, retrieved 5 May 2011, http://www.thermo.com/eThermo/CMA/PDFs/Articles/articlesFile_6716.pdf.
Gambichler, T et al. 2001, 'Protection against ultraviolet radiation by commercial summer clothing: need for standardised testing and labelling', BMC Dermatology, 1:6.