Relieving sunburn
It is likely that, despite all precautions, your child will get sunburnt at some point. Sunburn occurs when the skin is overexposed to ultraviolet (UV) radiation and the extent of the burns will depend on how much time the child has been outside unprotected and the strength of the sun during that time.
Seeing your child suffer from painful sunburn can be extremely distressing, particularly if you're unsure what you can do to help alleviate some of this discomfort. Most of the time, sunburn is mild or moderate and can be treated at home. The following advice explains how to care for a sunburnt child and offers first-aid tips which will make them most comfortable until their skin heals again.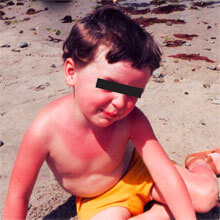 The following recommendations are provided by the Lucile Packard Children's Hospital at Stanford. Please be advised that this information is not a substitute for medical advice from a professionally qualified health care provider.
In the event that your child is sunburnt, the following steps can be taken to provide sunburn relief and reduce symptoms. In the case of an emergency, seek immediate medical assistance.
Decrease heat and pain from the sunburn by applying a cool compress such as a damp towel.
In the case of large area burns, give your child several cool baths for 10 minutes at a time. Ensure water is not so cold as to induce a chill. Adding baking soda to bathwater may improve symptoms; approximately 4 tablespoons (55g) for a full bathtub. Avoid using soap on the affected area as this may irritate sunburnt skin.
To ease pain, swelling and fever, administer either acetaminophen (paracetamol) or ibuprofen (anti-inflammatory) medication. Refer to individual medications for directions and safety information. To ensure you are giving a product and dosage suitable for your child, speak with your pharmacist.
Apply an aloe gel, topical (cream) pain reliever or moisturiser when your child is able to tolerate you touching their skin. Consult a medical professional for the most appropriate product, most are available over-the-counter at a chemist.
Don't burst blisters as this can lead to infection. Open blisters can be treated by removing dead skin with alcohol-sterilised scissors. An antibiotic cream should then be applied twice daily for three days to prevent infection. Remove the previous application with warm water prior to subsequent treatments.
Avoid exposing your child to further sunlight until the sunburn has completely healed. If they do go outside, cover the burnt areas with clothing and sunscreen.
Encourage your child to drink plenty of water. This replaces fluid lost through the sunburn and helps prevent dehydration, another possible effect of excessive sun exposure.
In the case of acute sunburn, it may be necessary to consult a doctor for additional treatment. Such cases may involve severe burn, blistering, infection or extreme pain which cannot be controlled using the methods described above.
It is important to note that severe sunburn or associated heat-stroke can be life-threatening and require urgent medical attention. If your child is experiencing symptoms of very high temperature, a dry swollen tongue, rapid pulse, shallow breathing, faintness or weakness, nausea or vomiting, headache, fever, chills, confusion, or loss of consciousness, seek emergency treatment for them.