First US Patients to be treated with SCENESSE®
CLINUVEL PHARMACEUTICALS LTD today announced that US insurance companies have agreed to reimburse SCENESSE® (afamelanotide) for patients diagnosed with erythropoietic protoporphyria (EPP).1
SCENESSE® was approved by the US Food and Drug Administration (FDA) in October 2019 to increase pain free light exposure in adult patients with a history of phototoxic reactions from EPP, a rare genetic and metabolic disorder. SCENESSE® is the world's first systemic photoprotective drug which has been administered to more than 1,400 patients to date in clinical trials, special and compassionate access programs, and under a European marketing authorization. Over 9,800 doses of the drug have been administered.
US DISTRIBUTION OF SCENESSE®
CLINUVEL supplies SCENESSE® through a controlled distribution chain directly to US Specialty Centers that have been selected to provide treatment. Following the phased launch of SCENESSE®, a maximum of 30 Specialty Centers are being trained and accredited by CLINUVEL for the prescription and administration of the drug. Each Center will share the responsibility to monitor EPP patients for a minimum of eight years (up to 2027). CLINUVEL's European pharmacovigilance (drug safety monitoring) system has provided a model for safety monitoring of US patients. The Company is required to submit quarterly pharmacovigilance reports to the FDA for the first three years after approval.
US INSURANCE COVERAGE OF SCENESSE®
Further to the announcement on 23 March 2020, more than thirty insurers nationwide have initiated reimbursement of SCENESSE® through Prior Authorization (PA), acceptance as a specialty drug, or inclusion in their formulary. PA is a decision by the insurer that a healthcare service, treatment plan, prescription drug, or durable medical equipment is medically necessary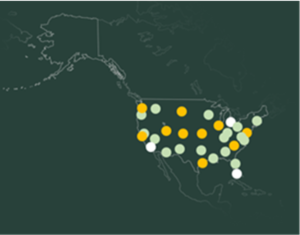 and is included in a member's (patient's) health plan. Treatment is determined for an agreed period (generally up to one year) between the patient's insurer and treating physician, during which time an assessment may be made of the overall benefit. Additional insurers are expected to include SCENESSE® in their PA lists or formulary. 
SCENESSE® is covered under medical benefit for a specialty drug to be administered in a medical setting, such as doctor's office or outpatient hospital facility. Specialty pharmaceuticals meet certain criteria including, but not limited to:
being prescribed for the treatment of a rare, complex, or chronic disease;
requiring complex storage and/or shipping necessary to maintain the drug's quality;
requiring comprehensive patient monitoring and education by a healthcare provider regarding safety, side effects, and compliance; and
being available in a controlled manner.
SCENESSE® SAVINGS PROGRAM
CLINUVEL has established the SCENESSE® Savings Program for American EPP patients. Individual applications, made according to the terms and conditions of the Program, will allow support on a case by case basis. EPP patients with commercial or private health insurance may be eligible, depending on the terms of each insurance policy. EPP patients will be able to register online and enrol into the SCENESSE® Savings Program, as well as register interest through a designated call center.2
COMMENTARY
"Novel drugs and molecules must be subjected to an extensive and rigorous clinical journey taking more than a decade to be able to demonstrate safety and efficacy and ultimately receive regulatory approvals," CLINUVEL's Director of Clinical Affairs and Compliance, Dr Linda Teng said. "It's not a pathway which can be accelerated at risk of patient health. The SCENESSE® controlled release formulation, administered by trained healthcare professionals, gives comfort that patients are receiving the approved dose, one which has been given to more than 1,400 patients to date. Importantly, our systems enable compliance with global rules on quality and pharmacovigilance to monitor the safety of the innovative product.
"Despite the COVID-19 pandemic affecting the globe, the Specialty Centers are still able to offer treatment and the first EPP patients will receive SCENESSE® in the coming days. We have been working intensively with the FDA and the Centers over the past several months to get to this point. Our team is immensely proud that, after more than a decade of hard work, the treatment is finally available to our patients," Dr Teng said.
1 SCENESSE® (afamelanotide 16mg) is approved in the European Union as an orphan medicinal product for the prevention of phototoxicity in adult patients with erythropoietic protoporphyria (EPP). SCENESSE® is approved in the USA to increase pain free light exposure in adult EPP patients with a history of phototoxicity. Information on the product, including the approved prescribing information, can be found on CLINUVEL's website at www.clinuvel.com.
2 Further details and terms and conditions are available from www.scenesse.com. This site is intended for US residents only.