Appendix 4C
EXECUTIVE SUMMARY ACTIVITY REPORT QUARTER ENDING 31 MARCH 2020
Key Activity Highlights:
Continued supply of SCENESSE® in Europe
SCENESSE® launch in USA following Prior Authorization by US insurers
Expansion of in-house R&D capabilities, Singaporean government provides financial incentives

Throughout the quarter CLINUVEL has continued to focus on expanding its business activities during a time when the COVID-19 pandemic has affected all global business.

CLINUVEL's drug SCENESSE® (afamelanotide 16mg)1 is approved in Europe and the USA for the prevention of phototoxicity and anaphylactoid reactions in adult patients with the metabolic disorder erythropoietic protoporphyria (EPP). The Company is currently evaluating SCENESSE® and other novel pharmaceutical products as treatments for patients with high unmet medical needs.

Supply of SCENESSE® to European EPP Expert Centres, including supply to Switzerland under a special access program, continued in the March quarter. Patient demand for SCENESSE® is seasonally variable, reflecting the impact of the intensity of ambient light to patients at risk of phototoxic reactions and anaphylactoid reactions.

SCENESSE® was approved by the US Food and Drug Administration (FDA) in October 2019. During the March quarter the Company progressed its commercialisation plans in the USA, announcing a three-phase distribution plan. Discussions with US insurer groups continued which has led to more than 30 insurers providing the prescriptive drug on Prior Authorization or formulary lists. Recommended US product and billing codes were finalised for SCENESSE®.

Work commenced to further expand the Group's Singapore laboratory capabilities, with the objective of bringing all analytical services inhouse. A new location was secured to establish state of the art and expanded laboratories which will work according to both ISO17025 and Good Laboratory Practice (GLP) specifications. The Economic Development Board of Singapore, under its Research Incentive Scheme for Companies initiative, awarded the Group's Singaporean entity up to S$500,000 over three years to support its expansion plan to progress its product pipeline.

During the quarter the Group confirmed the Australian Therapeutic Goods Administration (TGA) has accepted the registration dossier for SCENESSE®. CLINUVEL is responding to the TGA's questions as it progresses under the Priority Registration pathway to make SCENESSE® available as first line therapy for adult EPP patients.

A Type C meeting is scheduled to be held with the FDA in late April 2020 to discuss the design of a multicentre Phase IIb vitiligo clinical study (CUV104) and the future data package necessary to support a supplemental New Drug Application filing for SCENESSE® in vitiligo. In addition to vitiligo, the Group has also been working towards clinical evaluation the use of SCENESSE® in DNA repair.

The Group continues to be active in its pipeline development of a paediatric formulation of SCENESSE®, its next generation products based on melanocortin analogues CUV9900, parvysmelanotide, and phimelanotide with the intention of developing these analogues as medicinal agents for topical use, and its over-the-counter product range for general photoprotective application.


EXECUTIVE SUMMARY APPENDIX 4C QUARTERLY FINANCIAL REPORT
Key Cash Flow Highlights:
Quarterly receipts $5,369,000
Annual receipts increased 8% year-on-year, continued growth
Reduction in quarterly expenditures from prior quarter
Expenditures continue to support Group expansion
Cash on hand increased $4,894,000
Cash equivalents $62,329,000
Positive effect on cash held in non-Australian dollar currency


March Quarter 2020 Result
Receipts from customers were $5,369,000 for the quarter ending 31 March 2020. The quarterly receipts mirror the established pattern of nearly four years of commercial operations in Europe where seasonal fluctuations in unit orders for EPP treatment are reported. For the 12 months to 31 March 2020, receipts from customers rose 8% when compared to the equivalent period ending 31 March 2019.


Cash and cash equivalents for the quarter ended 31 March 2020 finished at $62,329,000, an increase of $4,894,000 from the previous quarter. The movement in cash was made up of a positive net cash flow from operating activities result of $2,169,000, combined with a positive effect of movement in exchange rates on cash held of $2,971,000. The severe weakening of the Australian dollar due to the global economic uncertainty from COVID-19 at the end of the quarter resulted in a positive revaluation of $2,971,000 from translating Euro and Swiss currency held in cash into Australian dollars.

Consistent with previous years, the cash result this quarter was positively impacted by a 24% reduction in expenditures from operating activities, from $4,497,000 to $3,398,000 compared to the December quarter.

Details of Operating Payments – March Quarter 2020
Administration and corporate costs decreased from the previous quarter which was punctuated by expenditures to renew key annual insurances and to support various investor and public relations activities. Expenditures on product handling and distribution in Europe was down from the previous quarter, which has included initial payments towards product supply chain development to meet coming years' anticipated treatment demand.

In addition to cash used in operating activities, cash used in investing activities increased, representing initial capital expenditures incurred as part of the expansion of CLINUVEL's R&D facilities in Singapore.

As disclosed in Item 6.1 to the Appendix 4C report, directors' fees including CEO remuneration were included in this quarter.

Trend in Annual Receipts and Net Operating Payments
The graph below illustrates the rising and progressive trend in annual receipts over the past eight successive quarters strengthening CLINUVEL's balance sheet. The controlled increases to annual net operating payments are balanced on a rolling basis to manage and support the growth of the Company.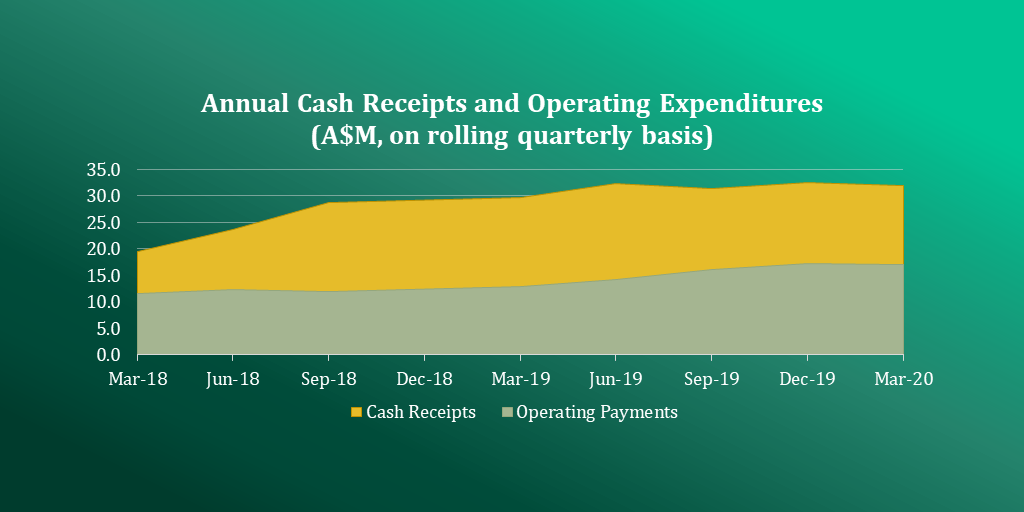 CLINUVEL has provided this ASX release under ASX Listing Rule 4.7C. The requirement to report an Appendix 4C cash flow report for each quarter ended in 2018, but the Company has elected to continue to provide the report to its shareholders.

A copy of the Appendix 4C – Quarterly Cash Flow Report for the March quarter FY2020 is attached below.
1 SCENESSE® (afamelanotide 16mg) is approved in the European Union as an orphan medicinal product for the prevention of phototoxicity in adult patients with EPP. SCENESSE® is approved in the USA to increase pain free light exposure in adult EPP patients with a history of phototoxicity. Information on the product can be found on CLINUVEL's website at www.clinuvel.com.