The CLINUVEL story starts in 1987 when university researchers launched an idea of synthesising human hormones to protect the skin. During this period, little was known about the properties of alpha-MSH (melanocyte stimulating hormone), although the scientists had discovered the biomimicry which these hormones could evoke (providing a golden glow without sun exposure). A basis was laid, but the majority of the research & development work was ahead to actually build a relevant product and successful company around this beginning scientific idea.
The CLINUVEL team in Australia obtained the rights to the technologies and established a company around alpha-MSH, its derivatives and knowledge. With an unabating focus and unusual willpower the CLINUVEL teams charged ahead and developed innovative technology which would release the hormonal analogue in picograms (10¯¹² grams) per day in a controlled fashion. With the world's first dissolvable implant releasing a novel hormone to mimic the effects of the sun on human skin but without incurring the photo damage, our teams worked for two decades to test the technology – SCENESSE® – in more than 1,400 patients worldwide through 4,500 doses. Innovation came with rigid testing.
In 2014, the European Medicines Agency and the European Commission approved SCENESSE® as the world's first photo protective drug for market authorisation to be distributed to European patients treated by specialist hospitals, dermatologists and other specialists. What had once been thought of as science fiction had become reality in October 2014, when SCENESSE® became the first systemic drug providing protection to the entire skin surface without exposure to light and UV. Currently, the Food and Drug Administration is reviewing the innovative pharmaceutical product for release in the United States, with a new drug application submitted in June 2018. At CLINUVEL we focussed and specialised for two decades on extreme disorders which were provoked by environmental conditions, such as erythropoietic proto- and congenital porphyria [EPP, CEP], Solar Urticaria and other light-induced diseases. Worldwide the erythropoietic protoporphyria patients are forced to live an indoors existence deprived of any light source.
One cannot imagine the physical and social ordeal these patients have to go through, and CLINUVEL's novel pharmaceutical product provided a new lease of – previously unknown – life to these patients. Through learning, research & development CLINUVEL's teams became the global experts in launching innovative therapies and unhinging established views, success in innovation comes with the complexity and pain of proving novel concepts first, as no other company would have preceded.
Naturally, CLINUVEL's teams anticipated the possible success of SCENESSE® and through their knowledge and expertise in optical physics and medicine, patients' behaviour under extreme conditions, the company became global leaders. Our employees focus and specialise on key areas such as:
the properties of visible light and ultraviolet light
the interaction of visible light or UV light emitted and human biology in general
behaviour of skin under extreme conditions
the effect of hormonal therapies on anti-inflammatory and nervous disorders
the release of pharmaceutical products in a controlled delivery
At CLINUVEL there is a deep reservoir of expert knowledge beyond the realm of this history and future to the company. We aim to use our knowledge to innovate products for smaller patient populations and larger audiences. In our own laboratories, we use active and non-active ingredients for formulating medicines for smaller patient populations (orphan diseases), while knowledge and derivatives of these medicinal products are tested and used for products benefiting a broader audience. Innovation is far from easy, not only is technology required to be robust over time, new measuring instruments, precision tools, biochemical assays, delivery devices and much education is required to be successful. CLINUVEL specialises in the introduction of novel medicinal technology, skin care products, protection under extreme conditions for all.
CLINUVEL's Model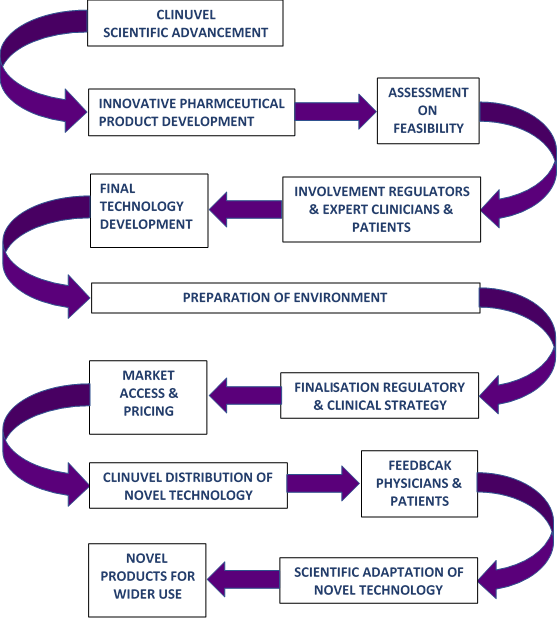 In CLINUVEL's MODEL – as illustrated here – the emphasis is placed on finding novel concepts and therefore products which can be of wider use. As technological advancement starts from our own research & development, we search to find answers to medical problems, healthcare issues and challenges posed by our own environment.
From pharmaceutical to a broader user base benefiting from scientific advancements benefiting clinical care and medicine. CLINUVEL believes there is much value one can derive from physicians' and patients' experiences benefiting eventually a wider user base downstream. In other words, our non-pharmaceutical products are derived from processes, knowledge and technological advancement made and discovered during clinical care.
CLINUVEL's teams pride themselves to apply the learnings from clinical care to favour products for everyday use, furthering innovation to solve complex problems for healthcare and skin care.
As can be seen in the flow diagram of CLINUVEL's MODEL, we seek to introduce technology by ensuring that the immediate environment is ready for acceptance too. Innovation of technology and finding solutions is not sufficient to guarantee success, we also need to make sure the immediate environment, decision makers, policy makers, users receive ample information on our intended changes to existing products. In the immediate future we will launch a product line for comprehensive skin care which will serve us under extreme conditions.