CLINUVEL REPORTS PROFIT, RENVESTING IN BUSINESS
Fourth consecutive annual positive net cash flow and profit before tax, unfranked dividend declared
CLINUVEL PHARMACEUTICALS LTD (CLINUVEL), a global biopharmaceutical company focused on developing and
delivering treatments for patients with a range of severe genetic and systemic disorders today announced its
Appendix 4E and Preliminary Final Report (audited) for the year ending 30 June 2020 (FY2020).
GROWTH OF TREATMENT ACCESS
CLINUVEL is focused on expanding access to its novel drug SCENESSE® (afamelanotide 16mg) for adult erythropoietic protoporphyria (EPP) patients worldwide, while developing novel products for patients and consumers. 1 During FY2020, SCENESSE® was approved and launched in the USA and broader market access was facilitated in Europe, where the product has been available by prescription since 2016.
FINANCIAL SUMMARY
The Group has reported growth in total revenues of five percent, growth in cash reserves of 23 percent and a netprofit before tax result of A$13.136 million. It is the fourth consecutive year CLINUVEL has recorded an annual profit. Today, an unfranked dividend of A$0.025 per share was declared, the third consecutive annual distribution of capital to CLINUVEL's supportive long-term investors.
All figures are rounded and reported in Australian dollars.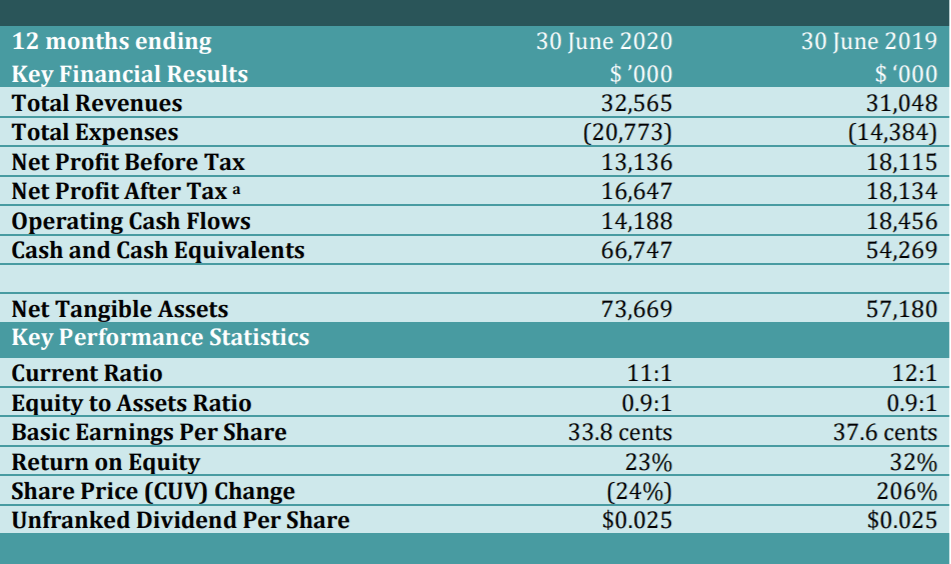 a. FY2020 NPAT includes income tax benefits of A$3.150m from the recognition of deferred tax assets in the balance sheet by bringing unused tax losses to account.
COMMERCIALISATION, RESEARCH AND DEVELOPMENT INVESTMENT
CLINUVEL has implemented a planned and focussed strategy of first commercialising and then investing in further follow-on research and development (R&D) of its pharmaceutical product SCENESSE® to maximise its value potential. In line with this strategy, CLINUVEL has increased its year-on-year investment in commercial, research and development activities, reflected in a controlled increase across most expenditure categories. In FY2020 the Company expanded the number of staff in senior and support positions globally, with particular emphasis on widening its scientific, technological and commercial capabilities. The total expenditures on R&D and commercialisation costs, comprising clinical study costs, drug formulation research, manufacture and distribution, regulatory fees and research, development and commercialisation-specific overheads such as personnel, were A$9.630 million in FY2020, increasing 40% from A$6.871 million in FY2019. The net cash used in investing activities was A$0.889 million in FY2020, primarily on the capital expansion of the VALLAURIX laboratories in Singapore due to be completed in the current quarter.
COMMENTARY
"The Company has continued to meet its objectives to provide treatment despite the monumental societal changes which occurred in early 2020," CLINUVEL's CFO, Mr Darren Keamy said. "While many healthcare facilities came to a standstill and focussed on critically ill COVID-19 patients, we managed to continue the supply of SCENESSE® to EPP centres both in Europe and the USA." "Today's results demonstrate not only an ability to maintain discipline in expenditure and cash management, but also a strength in managing our expenditure levels as a means to invest in future growth. In maintaining sufficient working capital to withstand adverse market conditions, and without further diluting shareholders or assuming debt, we have delivered a return on equity of 23 percent. "The Board of Directors further recognise the supportive and long-term investors of CLINUVEL by declaring an annual dividend, a redistribution of profits consistent with FY2019. The financial results of 2020 demonstrate ongoing value creation, as we gradually expand the business, as well as CLINUVEL's stability during unsettling global conditions," Mr Keamy said. Full details of the financial results are in the Appendix 4E and Preliminary Final Report announced separately.
1 SCENESSE® (afamelanotide 16mg) is approved in the European Union as an orphan medicinal product for the prevention of phototoxicity in adult patients with erythropoietic protoporphyria (EPP). SCENESSE® is approved in the USA to increase "painfree" light exposure in adult EPP patients with a history of phototoxicity. Information on the product can be found on CLINUVEL's website at www.clinuvel.com.